Hi Boston friends,
Quickly wanted to introduce my boutique residential real estate practice, now based out of the Coldwell Banker Brookline office, Aviator Properties!
In 2021, I joined forces with Coldwell Banker to continue building out my real estate offerings for clients buying and selling homes in the Greater Boston region. Real estate activity in The Hub is thriving like never before and being on the front lines is an exciting and always-on adventure. From existing and new construction single-family homes in the suburbs to townhouses, condos, or high-rise penthouses in the city, it's our passion and mission to go above and beyond to help our clients successfully navigate the often turbulent real estate journey to calm blue skies. As trustworthy co-pilots in the hyper-competitive marketplace of this post-pandemic world, we employ real-time analysis, an expert and experienced network, and winning tactics to guide those in achieving their real estate dreams, goals, and financial objectives.
If you're interested to stay on top of Boston's fast-moving real estate activity, or just want a general pulse of your home market, I invite you to follow along here where I'll post relevant news, articles, analysis, and updates on real estate in our slice of the world. Based in Brookline with easy access to downtown Boston, and living in Newton with broad exposure to Metro West, Aviator Properties Team casts a wide net covering all of Boston (ie, Allston/Brighton, Back Bay, Beacon Hill, Charlestown, Fenway, Jamaica Plain, West Roxbury, The Seaport, etc.) as well as surrounding cities and towns like Brookline, Newton, Cambridge/Somerville, Arlington, Belmont, Lexington, Concord, Dedham, Dover, Framingham, Natick, Needham, Waltham, Wellesley, Weston, and Winchester. We don't stop there, so don't let that stop you. We specialize in finding distinguished dream properties for our extraordinary clients all over Massachusetts, from the Cape to the Berkshires, Merrimack Valley to the North Shore. Mass is the seventh smallest state, after all.
Why Aviator Properties? As a hobbyist private pilot, flying single-engine airplanes is one of my passions. One day (this decade!) I'll own my own eVTOL (electric Vertical Take-Off and Landing) aircraft to take my flying to the next level; one that is more environmentally friendly and sustainable, as well as accessible for more frequent journeys. Until this new aviation technology is more proven and affordable, I'll be here mostly on the ground providing my clients the best service while building up the Aviator Properties Team at Coldwell Banker Brookline. If you ever want to talk shop (real estate or airplanes), you'll know where to find me. Feel free to reach out online, via email, or call anytime.
Why Coldwell Banker? The number "1", and the color Blue are why. As does Coldwell Banker embrace True Blue, so too does Aviator Properties Team embody the spirit of True Blue, for obvious and not so obvious reasons. Our logo is Blue, as is the limitless sky we look to for inspiration as aviators, and because Blue represents trust, confidence, and reliability – three foundational qualities Aviator Properties Team's service is built upon. And because Blue is the color of first place and going above and beyond. Blue is so formidable that in 2020, Pantone Color Institute named Classic Blue their color of the year.
"We are living in a time that requires trust and faith. It is this kind of constancy and confidence that is expressed by PANTONE 19-4052 Classic Blue, a solid and dependable blue hue we can always rely on," said Leatrice Eiseman, Executive Director of the Pantone Color Institute, in a news release. "Imbued with a deep resonance, PANTONE 19-4052 Classic Blue provides an anchoring foundation."

Classic Blue evokes ripe blueberries. The ocean churned up by frolicking dolphins. "A boundless blue evocative of the vast and infinite evening sky," said Pantone. And a "pervasive favorite for home."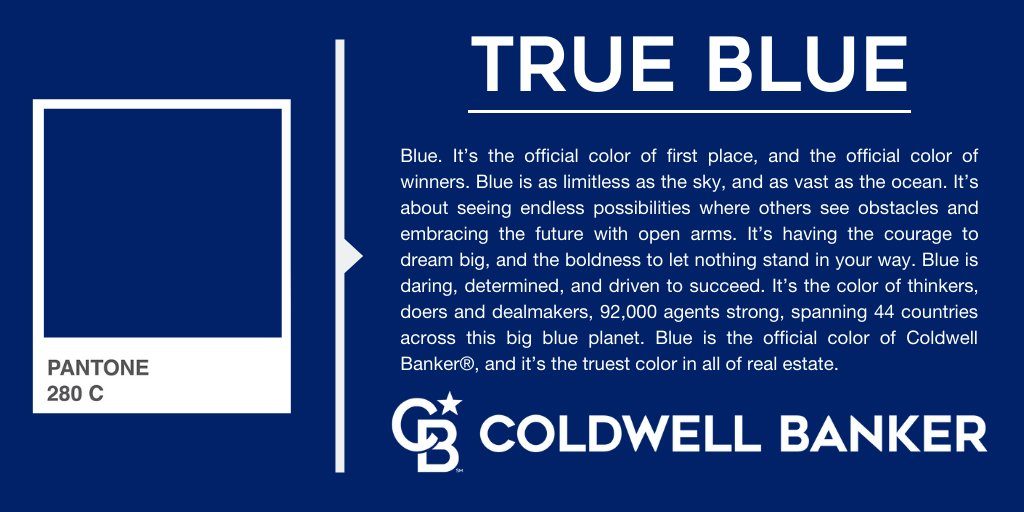 Thanks for reading along. Hopefully this quick intro gives a solid overview of the Aviator Properties Team at Coldwell Banker Brookline and how we strive to provide outstanding real estate services for our valued clientele all around the Boston Metro. Aviator Properties Team is committed to excellence with our efforts always pointing towards positive results. Most of our business is generated via word of mouth, and our ever-satisfied and happy clients always say the nicest things 🙂 We are so grateful for the opportunity to share our passion for winning at real estate with our amazing clients, and hope can be a resource in your Boston, MA real estate endeavors as well. Please reach out anytime, and feel free to sign up for our bi-monthly newsletter to learn more about our take on Boston area real estate.
Very truly yours,

EVAN BLAUSTEIN, MBA | REALTOR®
Aviator Properties Team Leader
Coldwell Banker Realty
1375 Beacon St, Brookline, MA 02446